I made this outfit a while ago and being it was summer, I wasn't ready for her to wear it. It is not quite Fall, but cool in the mornings so I finally put it on her. It was super cute on her and I set her on the bench outside day care to snap a few pics.
She was so stinkin adorable. I asked her to say cheese and this is what I got: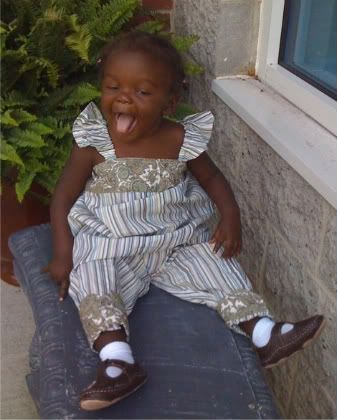 She is such a happy girl in the morning. She is bouncing by the time I get to her crib and then jumps into my arms where I am greeted by huge hugs. She fusses for her diaper change if I take too long to get to her bottle. But, after she relaxes during her bottle, she just sits up and is so happy and ready to go. So much fun! My spunky little girl.