Growing up, our tree was always a mish mash of homemade ornaments and special ornaments. Think Styrofoam bells with
glitter
. My mom has since graduated from that and has a fully coordinated tree with silvers and blues. Very, very pretty. I think those trees look great and so Martha Stewart.
But, my tree is a lot like the one we had growing up. Hubs always has to try and pick the biggest tree he can find. This was great when we had a two-story living room. One year our tree was 10 feet tall. This was also the year I realized that tree stands are rated for tree heights. Our tree came tumbling down the night after Christmas. I think it was in a tree stand rated 7-8 feet. We now have one rated 8-10 feet, but we have ten feet ceilings now so we need to limit our tree to 9 feet and below. This year I had to cut the top off to get the angel on.
Some of our special ornaments are a lighthouse that says NC 2001 the year we moved here and bought our house, one that says First Year as husband and wife 2002 from our old neighbors, a Baby's First Christmas 2003, assorted ones C made, and now one that Miss M made. I also love the ones that have their pictures in them. This year my favorite ones are a Little Sister and a Big Brother, I saw them and had to get them for the kids. I just love that I have the two little kids this year and feel so complete. Christopher asked me "Mom, are you happy this year that we have M?" I said of course I am, so he asked "Would you still be happy if it was just me?" I explained to him that yes he is special and I am and always have been happy that I am his mommy, but part of me would have been sad if he didn't have a little brother or sister to share his time with. He said he is happy that he has M.
We even have a few ornaments for Calvin, we are just missing one for Cuppy.
So here are some of our special ornaments: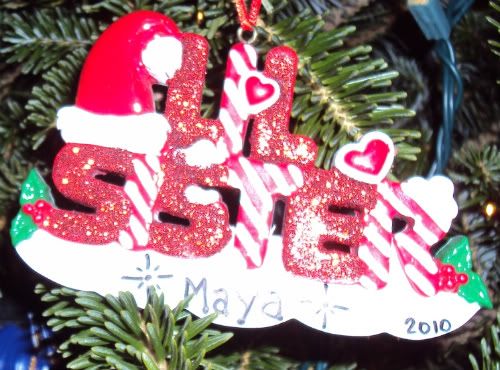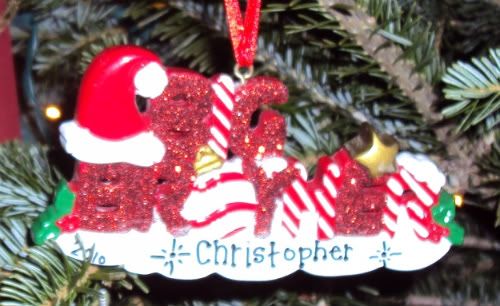 And sitting atop our tree is our new angel this year. Beautiful.

What does your tree look like? What are your favorite ornaments?