So once again I procrastinated with scheduling Christmas pictures (happened last year, too) and the photographers we wanted to use were booked. So I was left with few options when I had an "Aha" moment last night and remembered that Downtown Apex does Christmas pictures (a little 5 minute photo shoot) with Santa in front of an old fashioned fire truck and they take them high resolution and then give you the disc for $10. I stumbled on it last year. They also do a pancake breakfast.
Well, this year the line was 2 hours long so we missed the pancake breakfast. Bummer, but we got the pictures so I will be able to create Christmas cards. The pictures turned out really nice. The kids were amazingly good considering it was freezing cold and we stood outside in line for 45 minutes before we made it into the warm building. M cried as soon as I tried to put her on his lap and has qquite the expressions in the dozen images we got.
Since we missed the breakfast we decided to go to lunch and we hit Tyler's Taproom. The server was awesome, the food was good and they give Wiki Sticks to the kids to play with during the meal. C was so happy and entertained. I definitely think we will go back. They customized his kid meal to noodles and grilled chicken and he was so happy.
Here are some of my favorite pictures.
M is not so sure of Santa, but C is smiling big for the camera: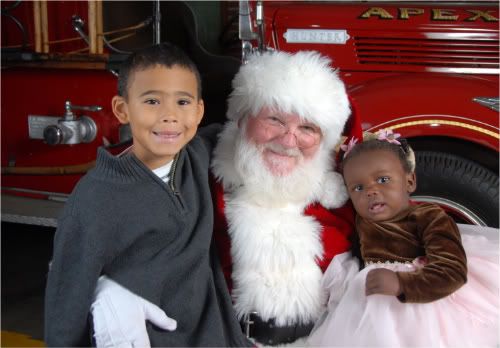 Santa made her laugh: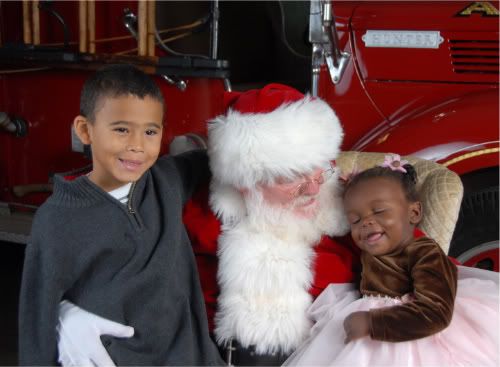 A Family shot:

C telling Santa that he wanted a digital camera for Xmas: