It is that time of year for Christmas cards again. I love creating our family cards and we usually get really into making sure we get a family picture for the card.
I have ordered from
Shutterfly
in the past and will be ordering from them again. It is super easy. You upload a picture (or two or three or more) and pick a design, then choose the layout, add a greeting and then preview. Once you decide it is super easy to order.
Here is a sample from a card from a previous year that we ordered from Shutterfly (all your projects can be saved and shared on their site). This one is from 2008. It remains one of my favorites because I love the picture with Santa reaching out his hand to C. Although, he told us and everyone who mentioned that picture that it was "Arvey's hand" the assistant that was helping take the picture.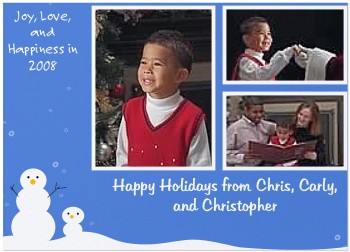 So far these are my choices for this year:

Love Hope Faith Religious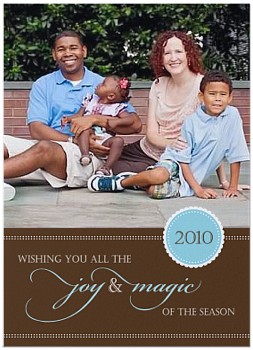 Joy Sky Story Christmas 5x7 folded card
I really like the "faith hope love" card because it seems so appropriate this year. This year has been so big for us with getting M placed with us in January, then adopted in August. I saw this card and thought it was "perfect" for our Christmas cards this year. I love the "joy and magic" one, too because it also sums up how the year was for us, joyous and magical.
I will probably end up doing a combination of the two so that our Jewish recipients get a holiday season one vs. more Christmas-y and we usually try to stick with a more "holiday" or "happy new year".
All the grandmas are requesting calendars again this year, they love seeing the pictures of the grandchildren throughout the year. And I need a new mug for my desk because mine is a family picture from 2006, pretty outdated. I have gotten the grandmas mugs, also, in the past but I think they will just get calendars this year.
p.s. I got 50 free cards for writing about Shutterfly, but I would have ordered from Shutterfly without the promotion and the card preview from 2008 was the actual Shutterfly card we sent out two years ago. They have a very good product.