Family Picture: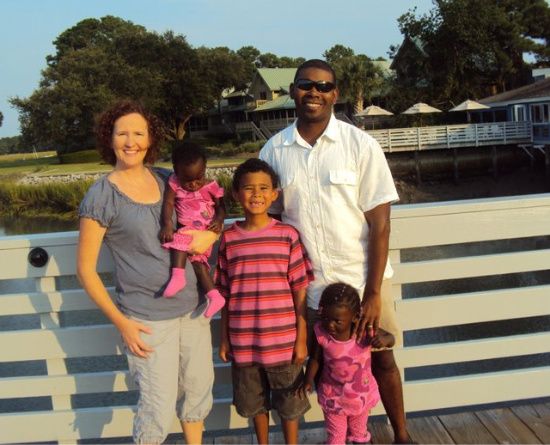 We spent the week in Hilton Head Island, SC for our family vacation. We rented a house in Sea Pines Resort. I love Sea Pines, it has beaches, pools, tennis, bike trails galore, petting zoo, shops, restaurants and of course the Salty Dog.
Trying to pack the car with a week's worth of stuff, four kids*, two dogs, beach toys, stroller, pack and plays (2), etc proved to be a bit challenging for hubby. He had to get a canvas roof top carrier. He said he would upgrade to one of the plastic ones next time. He was sweaty and exhausted before we even left home at 8:15 am.
It is about a 4 hour car ride that we managed to turn into around 5 due to eating and bathroom stops. The kids did really well. Miss D decided that when we were all stopped to eat would not be the ideal time to drink her bottle so instead as soon as we got back on the road I had to wrangle my arm back to hold her bottle for her. The girls, dogs, sitter and I slept. The dude stayed awake playing PSP and DSi.
We got there before check-in and had some time to kill so we hit up Wally World for some wine/beer last minute necessities like sunscreen and snacks. Really to get hubby some flip flops cause he forgot his. They only cost a mere $95 by the time the six of us walked out of there.
We rented the house through a website called Homeaway which lets you search for vacation rentals by owners. They used a rental company to manage the house. The house was nice, clean, and spacious. Had some nice TVs, a wonderful sun room (that hubby spent a lot of time on), and the best part was our own pool. We rented some bikes and got them Saturday afternoon. Sea pines has so many bike trails that we probably rode at least 40 miles during our trip.
We spent the vacation riding bikes, visiting the petting zoo, going to the beach, eating, swimming in the pool, going to watch live music at salty Dog and a lot of relaxing. The kids enjoyed the trip and it was a nice break from work and daily stress.

Miss M's favorite parts were attacking the ocean, dancing, swimming, and getting her first ice cream cone. She also developed a love of Dora because we brought our PS3 set-up with Netflix.

Baby D's favorite parts were eating playing in the sand, dunking her head under water in the pool, and trying a bunch of new foods.

Dude's favorite parts were playing in the ocean (after the jellyfish trauma** wore off), playing catch in the pool, and riding bikes. He also loved the Cookie Monster ice cream at Salty Dog.
Miss M guarding her toys, sibling rivalry already. D wanted every toy she had:

Cooling off after the Jellyfish sting**:
Thumbs up, he is okay and ready to go in the ocean again:

Ice Cream Cone: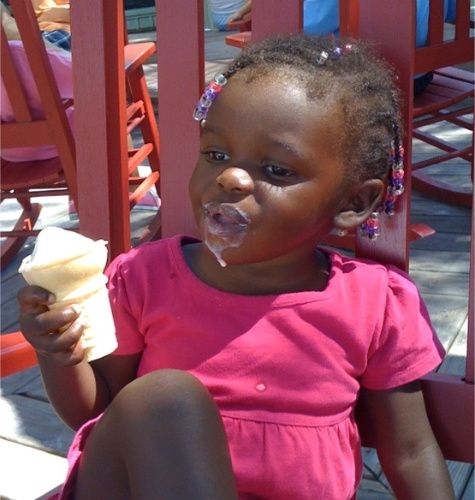 Jake the Salty Dog: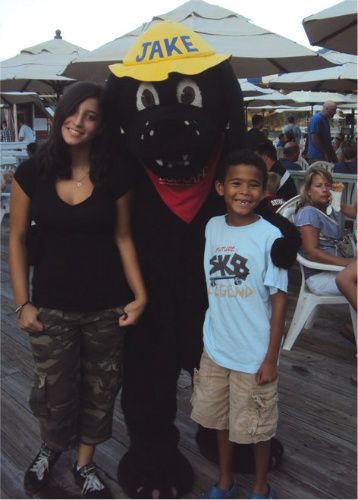 *We brought our wonderful babysitter to help wrangle entertain the kids.

**Dude and the babysitter got stung our first day out in the ocean. It was a bad day for jellyfish and they stung a bunch of people. Luckily, the life guards were prepared with tons of vinegar spray called Jellyfish Ash.