I have been struggling with M's hair a little lately. I think part of it, maybe feeling a little insecure. I know perceive that I am judged more as a white woman doing her hair. I am learning slowly but surely and some days we have really good hair days and it looks super cute and some days I struggle and it looks a bit rough. I need to experiment a little because I just don't feel like she needs to rock the twists in pony tails all the time. I mean there is only so much you can do to make it look different, 5 pony tails with braids, 7 pony tails with twists, barrettes on the ends, no barrettes, scrunchies, colored bands, bows, no bows, etc. I want her to be able to wear it down, but I haven't been able to master that yet though without a 30 minute detangling session afterwards.
I also want to make sure I am taking good care of it. So I read a lot about products and have spent a good bit experimenting with products. I know I got her conditioner down and I like the leave in I am using, but not sure if her shampoo is getting it clean enough while still helping and not doing any damage. Sometimes I only condition and sometimes I wash and condition (never washing more than once a week except this week which I will get to in a minute).
I read a lot of blogs on hair and follow one in particular pretty closely, Happy Girl Hair. Ironically, I think M's hair is very similar to her one daughter and Baby D's hair is very similar to the other daughter. I also recently started reading Chocolate Hair, Vanilla Care. I used the latter to learn a new style, rope twists and flat rope twists and decided to try it out.
I left M's hair out yesterday knowing I was going to wash yesterday or today. It was pretty cute, but her dad just rolled his eyes. Last night I washed it, got all the stuff together and styled it. It took about 2 ½ hours and I was so proud of myself. It turned out pretty darn cute for my first try and I was excited that it would probably last 2-3 weeks. She was so good and patient through it all. I took one picture of it.

Her Hair: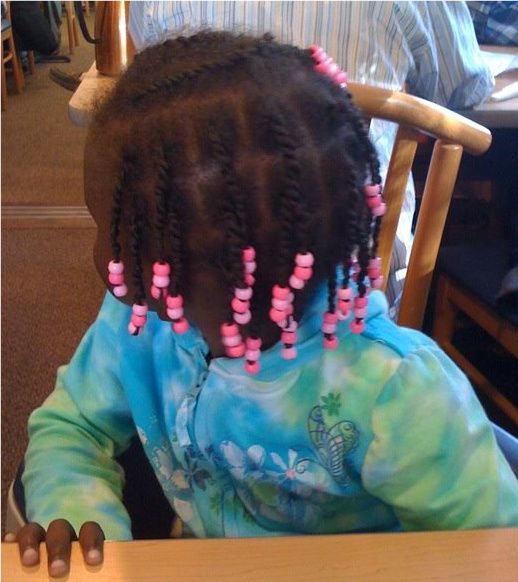 Fast forward to this afternoon, we went to the pool but it was closed so we came back home and I decided to cook dinner. I let Miss M watch some TV and started cooking. The show was almost over (all 30 minutes of it) when I hear her say "Ouch Mama". I rush over to the couch to find her comb stuck in her hair, her hair and face covered in hair grease, her hands covered in hair grease, nice little hand prints in grease on my couch (about 5 of them). Her hair style was ruined and that was just the start of it, she had used about 2/3 of the bottle of hair grease on her hair mostly.
I was so mad, not just at her, but at myself for leaving her hair stuff out. Who knew she could open the bottle. We finished last night around 11:30 and I was tired and didn't want to mess putting it back in her room where the baby was sleeping. (Will never make that mistake again)
I had to wash her clothes and wash her hair four times and I didn't even remotely get most of the grease out. It is so bad. I re-styled it tonight in larger rope twists but I think I will need to wash again soon. I just have no clue how to get it all out. Ugh! It is also not how I planned to spend my Sunday night before a busy week. The washing and re-styling probably took 2 hours.
I know people that don't have a kid with hair to do won't really understand how crushed I was when I saw what had happened.
Hubs says I should just keep taking her to get her hair braided but I don't think that can be the only solution; I need to be able to fix it, too. I am learning, it just seems like it is such a steep learning curve. I wouldn't trade it for anything, this is what I wanted a little girl to do her hair and dress up. It doesn't mean it can't also be a little stressful.
When I feel really bad I tell myself it took me almost 30 years to learn how to take care of my curls and I still have bad hair days, so I can't expect myself to know everything right away. People love to be helpful and tell me, Miss D's hair will be easier. I am not so sure, it will be different, maybe a little easier in the sense it is closer to mine and the dude's. I think I will still need to learn some. I also don't want to start the mindset that it is hard because I want her to love her hair (I LOVE her beautiful curls, I love how cute she looks in the water and bath with her curls circling her face). It isn't hard, it is just different than what I am used to.
I didn't take any pictures of the mess. At one point I did laugh to myself that I actually had something worthy to send in to Shit My Kids Ruined. I was just too caught up in trying to fix the situation.