The next outfit I made was Minnie skirts for the girls to wear with the Minnie/Mickey shirts I made. I loosely followed this blog. I wanted the bottom tier to be longer so I kinda reversed it. I had just made the tiered skirt so I used pretty much the same measurements I used for the top layer, it was 5 inches X 21 inches for the baby (2T) and 6X21 for the older one (4T). The second layer which is the black with white polka dots was 2X21 for both. This is where it was different than the blog, so instead of a small piping, mine ended up with about a ¼ - ½ inch border between the layers. Turned out very cute, just different.
The third layer was roughly 7X21 and 10.5X21 for the girls. I also used one long piece for each layer which made it easier, in my opinion. It just depends on how your fabric is cut. This way, I only had to sew them together, then sew up the sides, then sew a casing, and add elastic.
I ironed the middle piece in half and lined it up to the right side of fabric and sewed together:
Next I sewed the right sides together of the black and red/polka dot pieces with the black and white polka dot piece in between: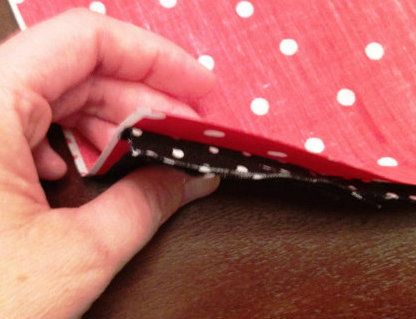 Here are the finished pieces sewed together before I sewed the sides together to make it a skirt:
Here is the finished skirt: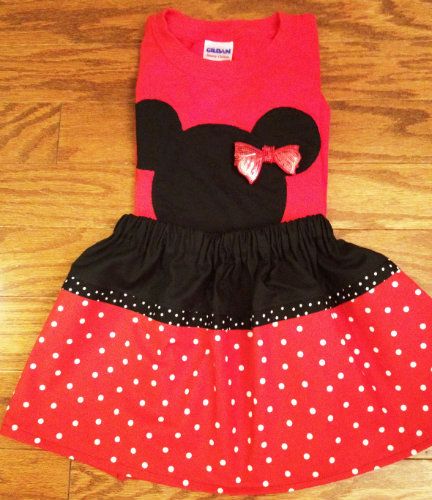 Here are both skirts with the Minnie shirt: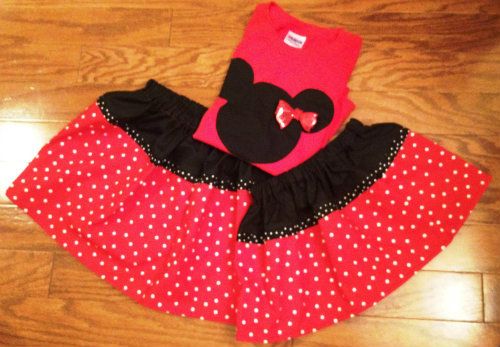 Can't wait to take some pictures of the girls with Minnie in these.