Today was my 5th Mother's Day. My little guy woke me up and snuggled and said Happy Mother's Day. I was going to sleep a little longer and he said, "we can't cancel Mother's Day". I told him we won't and I did get to sleep in, that was nice. I got coffee made for me and a new coffee mug that him and Chris had gone to crazy glaze and made. It turned out cute and says "I love Mom".
We went out to lunch at
Bonefish Grill
and ate a yummy lunch. Christopher was the only one that ate healthy. He chose the kid's meal of grilled chicken and veggies. I had chicken in a light cream sauce that probably had nothing remotely light in it, but it was yummy! We also had the Bang Bang Shrimp, mmmm!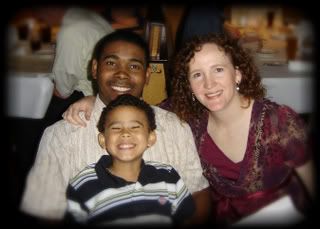 After lunch we went to run a few errands and got Christopher a new pair of shoes. They are super cool and we got a great deal on them. He got a new pair of
Merrell's
. He loves them and
Merrell
is a great shoe. He was so excited he put them on as soon as we got in the car. He is going to summer camp and has been really rough on his shoes so we wanted something that would last all summer and look decent.
We then went to an inflatable jump place for him to do some jumping. He had so much fun and played for two straight hours jumping and sliding. While we were there I realized the ring he had put on his finger earlier that day was getting more stuck. We tried to get the darn thing off and it was not coming off. We tried soap, ice, lotion, etc. There was a pediatrician there for the play date and she said we would probably need to go to Urgent Care. I called around to find one open and couldn't, so quickly went home for an internet search and found one that would be open. I had 24 minutes to get there and we pulled up at 7:56 pm. They closed at 8 pm. They took him in right away and sawed the ring off. It had started to turn purplish and was very swollen. They used a
ring cutter
to cut it off. The doctor then gave him a Popsicle, coloring book, and crayons. Way to motivate him to want to go to Urgent Care again. Tomorrow he plans to wear his doctor suit (a hospital gown) and bring his ring into class for show and tell. He still claims all the time he wants to be a doctor when he grows up. He did say he wants to work in an office and see kids and will only work in an office that gives out toys. But, only the kids that are good will get a toy.
I think I deserved my Mother's Day, right? Especially since we had our first trip to Urgent Care with Christopher.