We went to Wrightsville Beach for a long weekend. We stayed with
Elysia
and her family the same as we did
last year
and had so much fun. The kids loved the beach, of course. C is even more of a water lover than I have ever seen before. He would swim out to the big waves turn around and catch the waves in on his boogie board. We loved traveling with them as the kids get along great, it is always nice to have friends on vacation and we just get along with them great. Even Elysia's little boy went from just a little timid in the water to letting the waves crash down on him and him going really far out. Her little girl got pounded by a wave once and wasn't too keen, then I took her out and I think may have scarred her for life against the water when we got slammed with a wave. I did hold on, but she didn't like it at all.

I loved Wrightsville Beach, it is so nice and the waves aren't too bad and not a big under tow like we had in the Outer Banks. The house was about a block and a half from the beach, but an easy walk and well worth it. We mostly cook for ourselves on vacation, kinda ironic since I rarely cook at home, but I just have more time and it is easier while on vacation. I made big breakfasts a few days as I love making/eating a good breakfast while on vacation.
We did go out to eat once in Downtown Wilmington to
Front Street Brewery
and it was super yummy. We then walked around in downtown and got ice cream at
Kilwins
, which is soooo, sooooo good!

Here are the wonderful kiddos (with their friend Katie):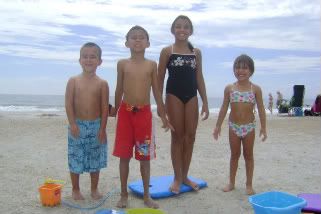 Here is bubby trying to save the kids as I take a pic (I will make the disclaimer again, no one was hurt, seems to be a recurring theme here lately):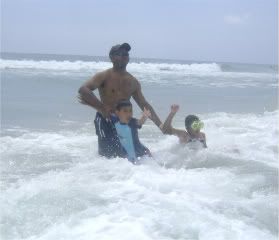 The pic I was trying to get (notice C doing Ninja moves he was telling the waves to back off):