We went camping at
Jordan Lake
this past weekend for our first ever family camping experience.
Elysia
organized the trip for our interracial families playgroup. We had 10 families camp Friday night, 2 families come and hang out on Saturday, then down to 7 families of campers on Saturday night. The area was great, they had tons of room for the tents to be set up, water at the site, we were right on the lake, and there was a playground right there, too. Having the playground was awesome, the kids loved going to the playground a LOT. The bathrooms weren't too far of a walk and had warm water even. There was a huge fire pit and we had a fire going most of the time we were there.
Friday night we set up the tents and then lets the kids play on the playground while dinner was being cooked. We had chicken, hot dogs, hamburgers and a big pot of chili. Saturday morning, we had coffee, cereal, yogurt, fruit, eggs, sausage, and more. The kids played on the playground more, we fished a little (the fishing area was not that great near our campsite, but some of the group walked to the pier where it was nicer). Lunch was leftovers.
Saturday afternoon we had a few more kids and parents come to hang out, we mostly let the kids ride bikes/trikes around the campsite, play on the playground, and fish some. Then we cooked out again, pretty much the same, burgers, dogs, chicken, had pasta, potato, and macaroni salad, and stuff. The kids drank way too many juice boxes. Then we roasted s'mores.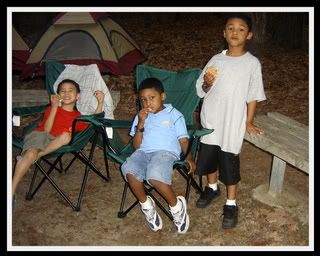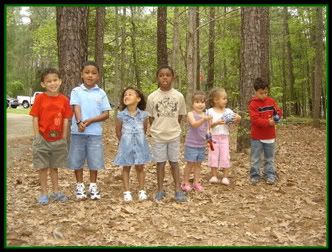 After all the s'mores (each had 3) and eating, the kids went to bed and the adults stayed up chatting and hanging out around the camp fire. Saturday night we totally got rained on (well at least we stayed dry inside the tent). It was so loud and it seemed like it poured all night. Our air mattress was a bit defective and by the end of the night we were all sleeping on the ground. So next trip we need to make sure we have a working air mattress.
We packed up Sunday and got home by 10:00 am. The tent is drying out in the garage and we all showered for a day of birthday parties (2) on Sunday. C said the best part of camping was playing with friends and eating s'mores. I think the best part was hanging out as a family with our friends, too.